"The PDFG was launched to collect feedback on ways to improve services."
Program Directors Focus Group (PDFG)
The Program Directors Focus Group (PDFG) provides expertise and insights to the CoAEMSP Board of Directors, especially relating to day-to-day operational aspects of CAAHEP accredited and CoAEMSP Letter of Review (LoR) paramedic programs.
The PDFG was launched in May 2023, building on several listening sessions and town hall conversations hosted by CoAEMSP in 2022 to collect feedback on ways to improve services.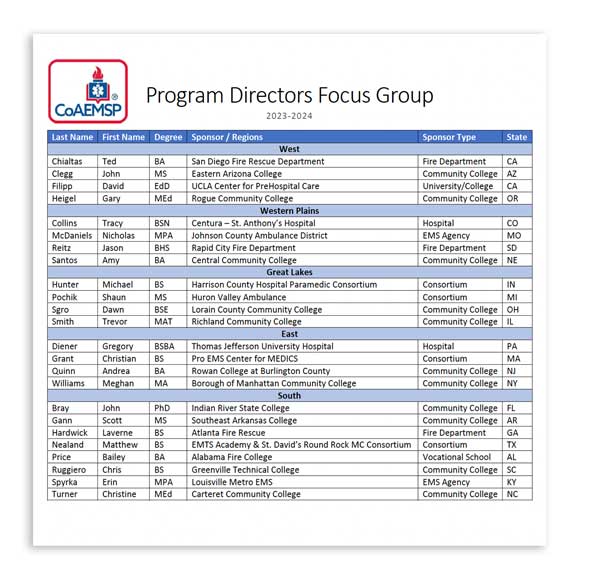 The 24 members of the PDFG represent a broad cross-section of the nation and paramedic education institutions, with four members from each NASEMSO Region – East, South, Great Lakes, Western Plains and West – and four at-large members. A full list of the 2023-2024 PDFG is available here.
Members of the group are volunteers and will serve for one year. The PDFG is not a governing body, does not set policy, and does not participate in accreditation decisions. 
CoAEMSP will post summaries of the PDFG quarterly meetings here once they are available. Applications for the 2024-25 PDFG will open in the spring of 2024.
Last Name

First Name

Degree

Sponsor / Regions

Sponsor Type

State

West

Chialtas

Ted

BA

San Diego Fire Rescue Department

Fire Department

CA

Clegg

John

MS

Eastern Arizona College

Community College

AZ

Filipp

David

EdD

UCLA Center for PreHospital Care

University/College

CA

Heigel

Gary

MEd

Rogue Community College

Community College

OR

Western Plains

Collins

Tracy

BSN

Centura – St. Anthony's Hospital

Hospital

CO

McDaniels

Nicholas

MPA

Johnson County Ambulance District

EMS Agency

MO

Reitz

Jason

BHS

Rapid City Fire Department

Fire Department

SD

Santos

Amy

BA

Central Community College

Community College

NE

Great Lakes

Hunter

Michael

BS

Harrison County Hospital Paramedic Consortium

Consortium

IN

Pochik

Shaun

MS

Huron Valley Ambulance

Consortium

MI

Sgro

Dawn

BSE

Lorain County Community College

Community College

OH

Smith

Trevor

MAT

Richland Community College

Community College

IL

East

Diener

Gregory

BSBA

Thomas Jefferson University Hospital

Hospital

PA

Grant

Christian

BS

Pro EMS Center for MEDICS

Consortium

MA

Quinn

Andrea

BA

Rowan College at Burlington County

Community College

NJ

Williams

Meghan

MA

Borough of Manhattan Community College

Community College

NY

South

Bray

John

PhD

Indian River State College

Community College

FL

Gann

Scott

MS

Southeast Arkansas College

Community College

AR

Hardwick

Laverne

BS

Atlanta Fire Rescue

Fire Department

GA

Nealand

Matthew

BS

EMTS Academy & St. David's Round Rock MC Consortium

Consortium

TX

Price

Bailey

BA

Alabama Fire College

Vocational School

AL

Ruggiero

Chris

BS

Greenville Technical College

Community College

SC

Spyrka

Erin

MPA

Louisville Metro EMS

EMS Agency

KY

Turner

Christine

MEd

Carteret Community College

Community College

NC