"Accreditation is new to me and all of you really helped relieve stress and uncertainty."
Fundamentals of Accreditation
Workshop for the EMS Professions
presented by CoAEMSP
Fundamentals of Accreditation Workshop for the EMS Professions, presented by CoAEMSP effective November 1, 2022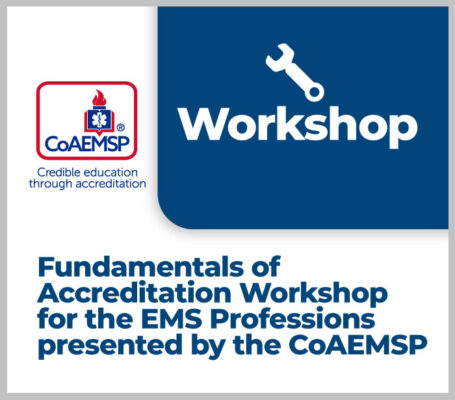 "I am a first time program director of five months. I have excellent support from my leadership and administration, but little to no local mentoring. This workshop and the recorded webinars I have watched have been extremely beneficial. The information, shared experiences from other program directors, and the networking were definitely worth the investment of resources. I look forward to attending additional workshops."
Fundamentals of Accreditation Workshop
for the EMS Professions
presented by CoAEMSP
June 1, 2023 – Louisville
8:00a-5:00p Eastern Time @ACCREDITCON
registration fee is $300

Register Now

October 18-19, 2023 – Bloomington, MN
Embassy Suites MSP Airport
Oct 18: 8:00a to 5:00p
Oct 19: 8:00a to 12:00p
registration fee is $425
Registration opens on July 1, 2023
These workshops are designed to educate participants on the 2015 CAAHEP Standards and the accreditation process, enhancing the accreditation knowledge of the Paramedic program faculty. Through the use of expert presentations and interactive group learning activities, the workshop will provide best practices to avoid common stumbling blocks.
The following will be addressed:
Overview of the accreditation process
Resources
CAAHEP Standards and Guidelines (2015)
CoAEMSP Interpretations of the 2015 CAAHEP Standards
Site Visits
Site Visit Findings Letters & Progress Reports
Annual Reports
Deal Breakers & Other Stumbling Blocks
Registration Information
"Webinars can be rough, but this was a thoughtful, well laid out presentation."
Space is limited. The first attendees to register and pay in full are guaranteed a spot.
Payment is required at the time of registration.
Payment will only be accepted via PayPal. (No PayPal account is required.)
The registration fee must be paid at the time of registration, there is no holding a spot.
Registration closes two weeks prior to the first day of the workshop – or – when all seats have been reserved, whichever comes first.
Cancellations are subject to a $50 cancellation fee. Any cancellations made within 14 days of the workshop will not be refunded and cannot be applied to a future workshop.
Registration is non-transferable unless prior approval is given.
Registration is per person, not per program.
"These workshops are absolutely essential for anyone going through the accreditation process."
"This was a truly worthwhile event. I learned quite a bit and picked up a great number of 'insider tips.' Highly recommend this for every newly appointed Program Director and periodically as a refresher for those who have been on the job."
Workshop Requirements
"I would attend a virtual workshop of this caliber again, with no reservations."
Fundamentals of Accreditation Workshop for the EMS Professions
In advance of the workshop, you have a home study to complete. Allow four (4) hours to complete it, which can be done over a span of days. The advanced study includes:
Watching 7-9 webinars
Completing the Scavenger Hunt (CAAHEP Standards, CoAEMSP Interpretations, policies, resources on the website) [allow 45 minutes]
Completing the quiz here [allow 5 minutes]
Downloading the Self-Study Report applicable to your program
Writing three (3) burning questions you have regarding the accreditation process
Tech Requirements
"This was so much better than I was expecting with it being virtual. It still felt like we were all together."
This online workshop will use Zoom. For a more uniform participant experience, plan to join from a computer with a large screen rather than a phone. You'll need a computer with a camera and a microphone.
If you are attending to meet a requirement set forth in the CoAEMSP Policy and Procedures Manual, you are required to be on camera. No video = no credit for attendance.
For a more effective workshop interaction and to allow for a realistic, participatory experience, attendees must join with audio and video.
The Fundamentals of Accreditation Workshop for the EMS Professions has been updated and improved to make it more beneficial in assisting Paramedic education programs with the accreditation process
Use of small groups to increase collaboration and problem-solving
Structured networking to gain new ideas and knowledge
Increased opportunities for the active guest
Reduced redundancy of course material
Opportunities to share best practices by guests
Multiple faculty to provide varied perspectives and improved course delivery
Less lecture and more interaction
Use of creative teaching methods to improve knowledge and retention
Workshop Descriptions & Objectives
Fundamentals of Accreditation Workshop for the EMS Professions
This workshop is designed to educate attendees on the CAAHEP accreditation process, including the self-study report, site visit, best practices, and maintaining accreditation.
The following will be addressed:
Overview of the accreditation process
Resources
CoAEMSP Interpretations of the CAAHEP Standards
Annual Reports
Findings Letters & Progress Reports
Site Visits
Deal Breakers & Other Stumbling Blocks
Some of the Important Information You Will Learn By Attending an Accreditation Workshop
Accreditation deal breakers
Identify documentation to make available to the site visit team and methods to organize it
How many students the SV team wants to interview
Tips and tricks for making the site visit efficient
Why it's important to pay your medical director
Why you need to look at the CV of the scheduled site visitor
How many days a site visit typically consists of
How many site visitors typically come to a site visit
"Although the workshop stuck to a lesson plan, I enjoyed the open-forum atmosphere and the opportunity to ask specific questions. The group quiz activity was fun and kept guests engaged.I also liked the opportunity provided to network with other programs that are in similar stages of accreditation, as well as those re-accrediting."
Ted Chialtas, Fire Captain/Paramedic, Paramedic Program Coordinator, City of San Diego Fire-Rescue Department
98% of accredited programs are college based
CoAEMSP does the "heavy lifting" for CAAHEP, but CAAHEP awards the accreditation
If you submit a pile of forms and papers for the self-study report without organizing them or following the directions, your program could be recommended for probation!
If you've submitted your self-study report, you will be aware of your strengths and your weaknesses
Make sure you have the most recent reports when you start your self-study
It's all about documenting—everything!
Capstone experiences need to occur at the end of the program
Student Minimum Competency (SMC) Matrix Recommendations is the CoAEMSP's attempt to make accreditation evidence-based (student-patient contact)
The executive analysis gives you the opportunity to fix problems before the team arrives
There are more than 100 site visitors
Site visitors are Program Directors and Medical Directors who have experienced the accreditation process in their own program
"The workshop was presented in a way that not only provided excellent information as it pertained to the accreditation process but also kept the attendee engaged. The opportunity to work with other individuals during the Q&A allowed us to network while focusing on the task/question being asked. The 'parking lot' allowed us to post questions that we might have thought of after the presentation."
Orlando J. Dominguez, Jr., RPM, MBA, PD from Eastern Florida State College
The Collaborative For Advancing Excellence Through Accreditation
VISIT ACCREDITCON.org
At the Omni Louisville May 31-June 4, 2023
See you there!
#ACCREDITCON
register now