The Bylaws provide a framework for the operation and management of the CoAEMSP.
The CoAEMSP Annual Report is published yearly, providing the public with an overview of the CoAEMSP's activities for the previous fiscal year.
View the 2020-2022 Annual Report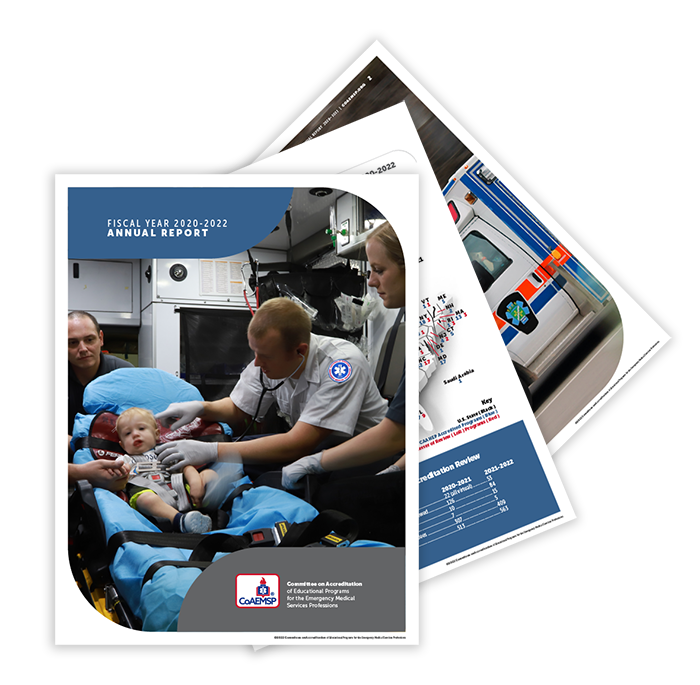 Position Descriptions for CoAEMSP Volunteers
CoAEMSP Board of Directors Meeting Highlights
The CoAEMSP Board provides predictable, consistent, and deliberate communications with its sponsors about the work of the Board. The Board provides official updates via the Board Highlights to each of its 12 sponsors within 30 days of each Board meeting.
These Highlights are shared directly with each of the sponsors' CEOs following the 30-day moratorium after a board meeting as well as posted here for review by anyone, including students, graduates, faculty, Paramedic educational program sponsors, administration, hospital/clinic representatives, employers, police and/or fire services with a role.
Board Culture: The CoAEMSP Difference
Board members are the backbone of the CoAEMSP, ensuring accountability of EMS educational programs through accreditation. Distinct in their professional and personal experiences, they share the single responsibility of upholding the credibility, integrity and accountability of the CoAEMSP.